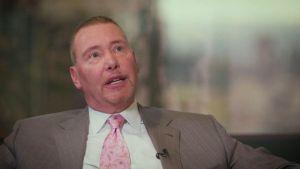 A prominent Wall Street billionaire known as the Bond King, a man who once called himself a "long-term dollar bear," has launched a scathing attack on the USD. The DoubleLine Capital boss Jeffrey Gundlach opined that the greenback was living on borrowed time, claiming that his "number one conviction" was that "the dollar is going to go down."
Gundlach has been outspoken on both the future of fiat and the destiny of bitcoin (BTC) in the past. As previously reported, he labeled BTC "a lie" in 2020, before piping up again in February this year to call the coin "maybe the stimulus asset."
But fiat was in his sights as he spoke to Yahoo Finance, noting that he was eyeing an eventual "aggressive" pivot away from the dollar and toward "emerging economies."
He claimed that an American financial recovery was underway, but that the "bounce back" had involved a lot of consumption" – much of which was "going to China."
Gundlach explained:
"That's one of the reasons why China has such a strong economy. So, what we're seeing in the United States is starting to fall behind in economic growth. That's not a new thing."
More worrying, perhaps, for USD advocates is the fact that Gundlach stated that Washington seemed "almost" disinterested in "maintaining global reserve currency status. He claimed Washington policies meant that economists were "looking at a road map that is clearly headed towards the United States losing its sole reserve currency status."
The billionaire noted:
"The value of the dollar is so high because we enjoy global reserve currency status, and we don't really respect it enough. And, I believe we are setting the stage for us to, unfortunately […] experience the consequences of our actions the way we have been running a non-serious economic program now. It's really accelerated so much in the past decade and there are no signs of it abetting."
Gundlach added that the dollar "has been in a series of declining highs for decades," going back to the 1980s, adding that "there's easily 25% downside" in the USD.
Gundlach also made note of the fact that some economists believe the Chinese economy will outgrow America by 2028.
In 2018, Forbes estimated Gundlach's fortune at USD 2bn. The Bond King is also the former head of the USD 9.3bn TCW Total Return Bond Fund. When he has spoken about BTC at all until recently, it has only been in withering terms.
Back in May, Gundlach repeated his assertion that tokens had become "objects of speculation," telling Yahoo that bitcoin and crypto were the "poster child" of a "funny money" market where investors feel like they are "playing with the house's money" in a "casino."
He also opined, referring to the dot-com boom of the late 1990s:
"It was like some of the crazy dot-coms that had no revenue that were coming to market very successfully in the year 1999. Here, it is […] really these cryptos."
When BTC prices dipped in July, Gundlach stated that there may be buying opportunities below the USD 23,000 mark – but only for those who could "stomach" the risk and volatility, reported CNBC.
____
Learn more:
– The Bond King Goes From 'Bitcoin Is A Lie' To BTC 'Maybe The Stimulus Asset'
– 7 Traditional Investors Who Said Bah Humbug to Bitcoin
– The Bond King Goes From 'Bitcoin Is A Lie' To BTC 'Maybe The Stimulus Asset'
– Ray Dalio Prefers Bitcoin Over Bonds, But Gold Over Bitcoin
– Investment Heavyweights Soros, Cohen Wade into Bitcoin, Crypto Markets
– How Education – and Envy – Turned a Billionaire Skeptic into a Bitcoin Bull